Flat roofing experts in Salford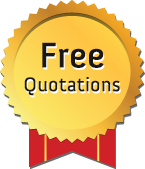 Whatever type of flat roof you have, we're the local experts to call if you need any work done from a minor repair up to a full replacement. We've served the Salford area for many years now and have built a strong reputation for providing top quality work at a fair price.
We've founded this winning reputation on being open and honest. This starts with our full and clear pricing estimates with no nasty surprises, we'll advise truthfully on what work needs doing without any upsells, and we'll round the service off with a full satisfaction guarantee.
Your choice is an easy one
A few reasons to book us for your flat roof work.
Top quality work - our expertise and the use of the best materials ensure work that lasts
Competitive - top levels of professionalism needn't cost the earth as a free estimate will show
Established - the reassurance of using company that has been in business many years
Guaranteed - whatever the roofing job, and however small, our work is always fully guaranteed
Your confidence is important
We want you to feel confident you've picked the best flat roof company for your needs. Hopefully our long track record in Salford demonstrates we're a company you can trust. Don't forget we guarantee all work so you know we stand by the quality we provide.
We always strive to be as open and honest as possible with clear pricing with no hidden extras, and full explanations of what work needs doing.
Why don't you see for yourself how we can help with your flat roof requirements? Call now on 0161 433 8799.