Fascias and soffits in Salford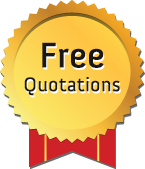 If your fascias and soffits are looking a bit tired or showing clear signs of falling into disrepair, then it's a good idea to get them seen to or at least fully inspected. They fulfil an important function in keeping rainwater out of your roof space: if they deteriorate they'll become less effective and let in water with disastrous consequences.
We'd be pleased to come and take a look at your fascias and soffits for you and advise on what work may be required. There's no hard sell beloved of some in this industry and no daft high prices that we suddenly lower to offer you a deal 'if you sign up today.' We've forged a fine reputation throughout the Salford area for being open and honest and providing top class work.
Choosing with confidence
See why a call to the number on this page is worth your while.
Honest - no pressure selling or inflated prices that get reduced to make the costs look good
Flexible service - various fascia and soffit types provided to suit your particular property
Established - in an industry where mortality rates are high, we're long established in the area
Clear and straightforward service
In an industry known for high pressure selling tactics and companies who don't last long in business we are both fully established and keep things honest and open. We won't press you into making rushed decisions, we'll let you take you time and decide in your own time.
We've no need to pressurise you - we're confident you'll be happy with the winning combination of competitive prices and top class work just like many of our ever-growing band of happy customers in the Salford area.
Call now on 0161 433 8799.