Expert roofers in Salford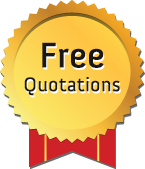 If you're looking for a wide range of affordable roofing services, all done to the highest quality standards, then we're the professionals to talk to in Salford and the surrounding area.
We've served the area for several years now and have built a superb reputation amongst our customers who know who to turn to whatever their requirements. We really mean it when we say 'no job is too small' as we can handle everything from the smallest leak to the largest re-roof project.
We've founded our service on being the professionals you can trust. We know how daunting it can be to seek out and hire the right roofer, so we make it as reassuringly easy for you as possible as you can see below.
Your roof in safe hands
Take a look at some reasons why we should be the first roofer you call:
Many years' experience - we're expert in all kinds of roofing work with a reputation to match
Free estimates - we'll provide a full and inclusive price with no hidden extras
Your satisfaction guaranteed - for your peace of mind we satisfaction guarantee all work
One stop roofers - our phone number is the only one you need for all your roofing requirements
See our wide range of services and call to discuss your requirements.
Honest, fair and fully guaranteed
We're fully transparent in all dealings with you as shown above with free quotations and the provision of a satisfaction guarantee.
You'll find there are no hidden extras and no attempts to force work on you that doesn't need doing. We guard our fine reputation jealously and want you to not only come back when you need more work but recommend us to other people. You'll only do that if you trust us. We want you to be satisfied and have confidence you've chosen the right roofers, so our satisfaction guarantee applies to all work we do for you.
Fine our why we're so highly regarded in Salford and discuss your roofing needs now by calling us on 0161 433 8799.